James Brandon Lecture – Armed & Dangerous Part 2
When:
25/06/2019 @ 7:30 pm – 10:30 pm
2019-06-25T19:30:00+01:00
2019-06-25T22:30:00+01:00
Where:
Irish World Heritage Centre
1 Irish Town Way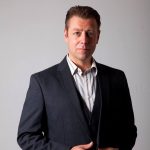 James Brandon is one half of British Comedy Duo  "The Grumbleweeds" – and what he doesn't know about comedy could be written on the back of a very small postage stamp!
We are extremely delighted to welcome him back to The Order of The Magi for the second time, as he shares his vast wealth of knowledge about using comedy in magic, and how to deal with hecklers.
If you use comedy in your magic act, would like to learn how to start using comedy in your act, or want to know how to deal effectively with the irritating guy who is determined to ruin your performance, this is a lecture you will not want to miss!
We are guaranteed a night of laughter, along with some very practical information that will definitely improve your act.
As this lecture is specifically about comedy, performance and showmanship, performers who are not magicians (such as comedians, after dinner speakers etc) are welcome to join us on this special occasion by prior arrangement with our secretary. You can email him here
Guest Entry – £5pp (Payable on arrival).
Note: We will be holding this lecture in the Cafe of The Irish World Heritage Centre (downstairs, adjacent to the foyer), and not in our usual rooms.