The M.O.T Magic Mini Lectures
When:
25/02/2020 @ 7:30 pm – 10:30 pm
2020-02-25T19:30:00+00:00
2020-02-25T22:30:00+00:00
Where:
Irish World Heritage Centre
1 Irish Town Way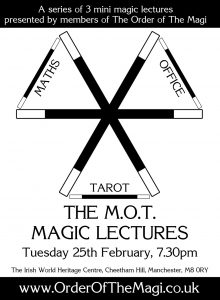 Three Mini Magic Lectures on the subjects of Maths, Office Supplies & Tarot Cards, presented by members of The Order of The Magi
"The Magic of Maths" presented by Geoff Newton
Maths – It might not have been everyone's favourite subject at school, but that's probably because it wasn't magical!
Geoff Newton, editor of the International Brotherhood of Magicians Key Ring magazine, will show you how to perform miracles with numbers.
This isn't a maths lesson, but a carefully calculated lecture on wizardry with a number of routines that you'll want to add to your repertoire!
"I wish my accountant could be there!" – Jimmy Carr
"Step into my Office" presented by Mike Sharples
Impromptu magic is all well and good when you are in the right location – most magicians can perform a few effects with things found in a bar, for instance. But what happens when you only have a handful of paperclips, some A4 paper and a pen to perform with? Mike Sharples has been performing magic in offices around the country and converting the reactions of his audiences in to big sales – and you can too.
Mike's lecture on magic with office supplies is a must for anyone who works in an office, has meetings in offices, and the effects shown are sure to become a staple of your daily life.
"I regret not inviting Mike to perform his magic on BBC 2's The Office!" – Ricky Gervais
"The Magician & his 77 friends" presented by Stuart "Harrizon" Cassels
Professional Fortune Teller Dr Stuart "Harrizon" Cassels will be sharing his thoughts on performing magic tricks with Tarot cards.
Whilst this lecture will focus on Card Tricks using Tarot Cards, and include a brief discussion on the ethics and methods of Fortune Telling, one of the main purposes of the lecture will be to give you some insight on how to adapt card tricks so that they are no longer using standard playing cards.
"I'll be there… in spirit!" – Derek Acorah
Guests welcome by prior arrangement – £5pp
Please note, The Order of The Magi accepts no responsibility for injuries arising from paper cuts, flying bulldog clips or staple guns. The quotes attributed to celebrities may not be entirely accurate (or at all truthful).