Paul Roberts Lecture
Tuesday 26th June 7.30pm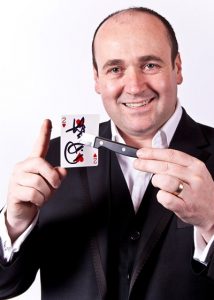 Top award winning magician Paul Roberts is one of the leading sleight of hand entertainers in his field today. His performances have earned him a whole host of prestigious clients and celebrity credits.
His fresh enigmatic style and cutting edge repertoire have made him a truly sought after commodity in the UK magic scene and corporate entertainment industry.
Featuring:
Paul's Inner workings on the Ken Brook Electric Chair Routine.
Making Wayne Dobson's Ring Flash even more practical and stunning.
Paul's work on Think of a Card (He will have you performing this classic within 5 minutes of seeing his explanation).
Fun Mind Reading (Paul will teach you how to guess the name of a spectator's pet).
Jumbo Coin Productions and Vanishes
Guest Magicians are welcome – £5 entry free (payable on the evening), with prior permission of a member of the committee.