Tom Elderfield Magic Lecture – Tuesday 14th November, 7.30pm
The Order of The Magi, Manchester is proud to announce our latest magic lecturer – Tom Elderfield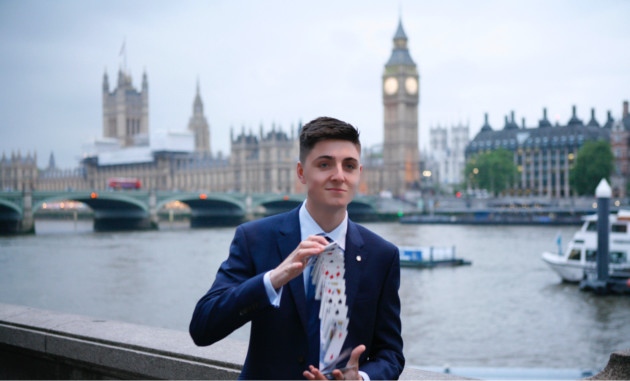 About Tom Elderfield
Tom has quickly grown as one of the first of a generation of magicians using the platform Instagram to show off their new creative work. From doing this Tom has gained a reputation for creating highly visual and crazy gimmicks with everyday objects.
Tom makes "real life camera tricks" out of nearly anything! This has also resulted in multiple viral videos leading to his magic being seen my literally millions.
Already Tom has created tricks for some of the biggest TV magicians, travelled the globe showing his magic and had multiple successful releases all while still in his teenage years.
The Lecture
Tom's lecture will teach you effects as seen on his Instagram & performed on TV as well as some never seen before material. You will learn how to create gimmicks and his theory and method on creating magic with everyday items. All this presented with his fun enthusiasm towards his magic.
Tom's lecture has also recently got him promoted to an Associate of the Inner Magic Circle with Silver star as well as receiving multiple 5 star reviews for his At the Table Lecture produced by Murphy's Magic.
A truly unique lecture not to missed if you want to step your magic up and have a more modern aproach to the effects you perform.
The Level Of Magic Produced By Someone So Young Is Mindblowing And Inspirational – Dynamo
Don't be fooled by his age (although there is no doubt he will fool you!) – a quick glance at his extensive resume will convince you that as a performer and developer of magical effects he is one of the world's greatest magical creators of his time.
I've been following Tom Elderfield quietly for a while now. I was hoping he'd remain a secret and I'd keep his killer magic for myself! – Justin Flom
As always, entry for Members of The Order of The Magi is free, and visiting magicians are welcome to join us by purchasing tickets through Eventbrite (see order form below)
Date: Tuesday 14th November 2017
Time 7.30pm prompt
Location: The Irish World Heritage Centre, 1 Irish Town Way, Off Queens Road, Cheetham Hill, Manchester. M8 0RY