Magic Auction – Tuesday 22nd May 2018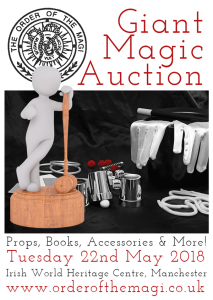 The Order Of The Magi will be holding their next Giant Magic Auction on Tuesday 22nd May 2018
at:The New Irish World Heritage Centre
1 Irish Town Way
Manchester
M8 0AE
For a simple map click here
Non-Members Admission £3.00
The Auction will commence at 7.30pm prompt, Lots accepted from 6.30pm onwards.
Lots will not be accepted for auction unless submitted with three copies of the official Order of the Magi Auction Form. (See Below).
Don't forget a copy for yourself.
It's an ideal time to sell those props you no longer require or why not come along to see if that special item you have been looking for is here.
Lots limited to 50 items so there's more chance of your lot being sold.
The Society's commission is 15%. We DO NOT charge commission on unsold items that fail to meet the reserve.
For a form, lot number and a copy of the rules telephone:
Mike Sharples – Mobile 07748 833666
or
Max Townsend – Mobile 07527 387146
Download a copy of the auction form
Order of The Magi Auction Form (PDF)
Order of The Magi Auction (Word Doc)