High Jinx Live Magic Show
High Jinx Magic & Illusion Show at Heywood Civic Centre
Tuesday 13th February 2018, 2.30pm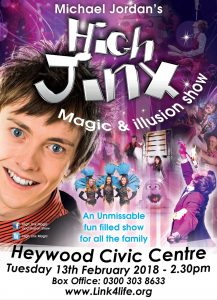 The Order of The Magi doesn't usually hold a meeting on the second Tuesday in February each year, due to the proximity to Blackpool Magic Convention – one of the largest annual gatherings of magicians in the world.
This year is no different, but unofficially we are inviting our members to get into the magical mood a few days early with the opportunity to see one of the UK's best young magicians – Michael Jordan – in his amazing live Magic & Illusion Show "High Jinx" at Heywood Civic Centre.
Featuring stunning magic, illusions, escapology, juggling and much more, this amazing show is suitable for all members of the family and definitely not to be missed by any fans of magic! This show has been a regular part of Blackpool's Summer season for a number of years, appearing at Blackpool Pleasure Beach and at Viva.
At just 25 years old, Michael has appeared on several TV Shows, including "Penn & Teller Fool Us" & "Blue Peter", and has won numerous magical awards, including The Magic Circle's Young Magician of The Year. He has performed around the world, and even performed for British Royalty!
Whether or not you are planning on attending Blackpool Magic Convention this year, this is a great opportunity to see an accomplished and successful young magician performing in Greater Manchester.
Many of our members have already expressed an interest in seeing this show, and it promises to be a great afternoon of live entertainment.
Visit High Jinx's Website to learn more about the fantastic magic show.
Book tickets for High Jinx at Heywood Civic Centre on Tuesday 13th February.
All links open in a new window.
Please Note: This is not an official Order of The Magi event, and therefore not covered by membership subscriptions etc.