2008 North West Dealers' Day Report – 9th December 2008
A 'Bird's Eye View'
Reported by Vivien
An ominously gloomy, chilly November morning and three black-clad women grouped close to the massive dark cauldron, ready to work their sinister magic; references to "The Sisters of Eastwick" were conspiratorially whispered as, outside, leaden grey moist clouds gathered.
What else could this be, other than the sixth North West Dealers' Day ("NWDD"), since it had been taken over by the Order of the Magi (Manchester), and held for the fourth successive year at the Magi's headquarters at the Irish World Heritage Centre? Mercifully, the rain kept off, certainly during setting up and dismantling. So maybe one of the Sisters' spells worked!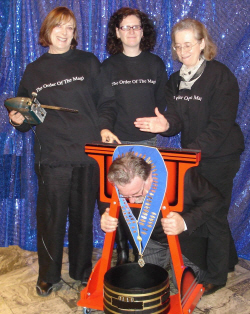 Geoff somehow regrets calling the ladies team 'The Witches of Eastwick'
Geoff somehow regrets calling the ladies team 'The Witches of Eastwick'.
Going back to the beginning, this popular event unfolded on 8th November, from the crack of dawn, as the Magi's stalwart NWDD Team, sporting their identity tee shirts, set up the stands ready for the arrival of the dealers. One or two visitors were at the door early, possibly hoping for first choice of the colourful and beautifully arranged selection of goods displayed and maybe failing to spot the unobtrusive arrival of Pete James of the Manchester Fort Shopping Centre. Pete was there to judge which dealer had the most attractive display and, for the third year running, David Baxter of "Made to Measure Magic" won the trophy. Congratulations, David!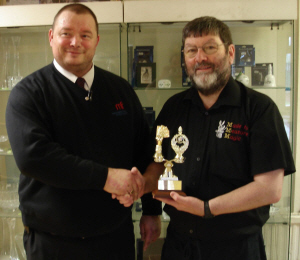 David Baxter receives his award from Peter James
Peter James of The Manchester fort Shopping Centre congratulates
David Baxter on winning the Dealers Trophy.
Helen Moran, Nikki Sharples and I had been detailed to carry out entrance duties. This year we each had been provided with a warm black sweat shirt, complete with "The Order of The Magi" emblazoned in white, across the front. We received some favourable comments from visitors about these. The intention is that we wear the sweatshirts, for corporate identity, at future Magi events.
The day unfolded in, what I can only describe as, an upbeat atmosphere, which I found slightly surprising within the context of the present economic gloom. There was a steady stream of visitors: the stands were invitingly set out; small social groups formed and regrouped throughout the day and the non-stop Power Point presentation, expertly created by Dan Sharples, presented a huge eye catching visual focus As we have come to expect, the Irish World Heritage Centre provided seemingly endless quantities of hot and cold food, not to mention the drinks which emerged from the busy bar. There was a distinct "buzz" to the whole event.
The, now-well-established form of raffle – a hamper crammed with magicians' props etc. – strategically placed on a table close to Helen, Nikki and me, attracted much attention. Trade in raffle tickets was brisk.
Two talks/demonstrations broke up the day, and Alan "Snaggers" Russell held a balloon modelling surgery, at which one could request help with knotty problems! From the number of balloon animals and hats I saw, I assume that Alan was kept fully occupied. Many thanks, Alan.
The first demonstration, at about midday, was Johnny Oz's origami workshop. Wired up for sound, and set up in front of a shiny blue cloth- draped Spiderflex, John kept us all enthralled by his creativity with paper, beginning with the basics (how to make a square out of a sheet of A4), working through a series of different folds (the terms "mountain" and "valley" were part of the technology) and a crane, complete with flapping wings, and a unicorn were amazingly sculpted from flat paper. Bent heads, furrowed brows and deep concentration, with the satisfying accompaniment of rustling, John's class were determined to acquire skills and knowledge, some occasionally losing their way in the process. He was patient and methodical at every step, repeating himself when necessary, allowing everyone to keep up, and offering ongoing support as requested.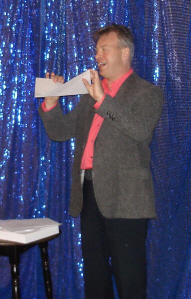 Johnny Oz commences the origami lecture and has his audience in creases.
Johnny Oz commences the origami lecture and has his audience in creases!
John interspersed his demonstration steps with the light relief of about 15 origami jokes. (Q. What do you call a donkey that folds paper? A. Eeyorigami). John's final model was an exquisite butterfly ("I only learned to do it this morning") and others, including a huge frog, were produced, ready made, to illustrate some of the seemingly endless possibilities.
Thank you so much, John. I can now envisage numerous restaurants which, under your influence, will now have their menus rendered unreadable!
David Charles gave a mini-lecture later in afternoon, opening by "collecting" coins from some of those sitting at the front, allowing them to "drop" into a tin bucket. He changed a white silk into a red one, which he vanished and changed a red silk and a white silk into a dual-coloured one.
Using a pack of cards, he produced a pack of blank cards, then revealing some with pips. Three different ropes were produced, one with money attached: two were chosen at random – and David had retained the rope with the money.
Moving on to the ubiquitous linking rings, and using three rings only, he showed us various routines, explaining clearly how to use them to best effect. David then, with the able assistance of Annabella Horridge, demonstrated a routine for a children's show, involving two slates, saying that, if a child can succeed in showing that 3×3 = 8, the prize is a holiday, whereas the slate wouldn't "let" the child do this. A picture of the teacher finally materialised. A further children's item involved a squeaking frog which kept changing places with two non-squeaking frogs. On the general subject of entertaining children, and again with the aid of Annabella, he showed us a party game, involving a long rope and a bucket. David finished with a routine "performed" by her involving a long piece of thread which she broke on pieces, rolled into a ball using wet fingers and, eventually reconstituted.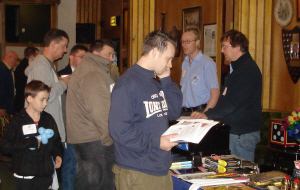 A crowd gathers at Merlin's stand.
A crowd gathers at Merlin's stand.
Throughout his lecture, David performed each routine, with ongoing advice on the most effective mode of presentation. We were given numerous welcome tips on various aspects of a magician's work, such as how to approach a dinner table to do close-up, how to deal with prospective clients during telephone enquiries, entertaining customers in clubs, suitable prizes, and so forth.
David's lecture was both highly entertaining and informative. I very much doubt if anyone watching him didn't get, at least, some useful information or tip.
Throughout the day, I was aware of some visitors using the marvellous shopping centre just round the corner. It sounds sexist (not intended), but I suspect that several women had left their menfolk, happy, at the Irish World Heritage Centre, whilst they had gone to do some early Christmas shopping! From my perspective, the NWDD 2008 proved successful on most, if not all fronts, socially, entertainingly and commercially, an arena in which magicians and their families could gather to meet, exchange news and gossip, buy, sell, learn and enjoy.
Hope to see you all next year.
Vivien