Annual Cabaret & Comedy Competition 2007
13th February 2007 reported by Geoffrey Newton PRO
'Nick the Next' had arranged for 8 entrants for this annual event who were well supported by plenty of members and guests. It was good to see the room full of people who had come along to encourage the participants.
Opening and of course with the most difficult slot was Richard Blackie who commenced with a Keys to Baldpate effect. This was followed by each of four people choosing a purse containing a poker chip and he had correctly predicted which colour each one would have. Now on each of three cards a circle was drawn with different coloured markers. Three spectators were each asked to put a cross in the centre of each circle with a colour not the same as the circle. Again Richard's predictions turned out correct. Finally a country was selected from an atlas, a word from a dictionary and numbers totalled up from a free choice of number cards. Yes he was right again.
I know Richard is a keen mentalist and his presentations become stronger and more entertaining each time, well done.
To a musical backing Stephen Ablett came on with rope through neck and various ring and rope routines. The yellow chunky rope showed up well. Now into patter he went on to 'Stop me at any card and I'll name it' from a shuffled deck. Now to 5 cards taken from the deck, shuffled back in and all found by different routes. With the assistance of 11 year old Josh he presented the T & R leaflet and finally a paper tear about space.
Stephen is a regular contributor to our competitions and his styles have changed over the years. His performance was a good magical interlude and well received.
Immaculately dressed David Yorke bounced onto the stage and went straight into blank notes to bank notes. A card was then selected, torn into pieces, vanished in a hanky only to be found sealed in an envelope in his wallet. His finale came in the form of the Chinese compass revolving round a story about Christopher Columbus. David certainly is a confident, experienced performer and it showed.
As a noisy American evangelist Gary Williams had very funny lines but some of the presentation I found difficult to follow. He had colour changing backs of cards and a quick card trick to finish.
After a short break the judges were introduced: – Howard Carter and Alan Sherratt from The Mercian Mystics as magical judges and Jane Banner and Kevin Skellern voting on entertainment.
On with the show and a very dapper looking Dave Hutchinson leapt onto the stage with spoof comedy rabbit(s) from hat and then equally crackpot nine pound bowling ball zombie. Beakers were then filled with water which vanished. There was a version of what I know as Twisted Sister but done with kings. He then gave a playing card a name (Lucy) and someone was asked to name a card. When that card was found it had Lucy written on the back whilst all the others had different names. Dave always has an offbeat approach that made this a funny act.
The camp humour of Philip Partridge always goes down well with audiences and his opener of swallowing a balloon certainly was an attention grabber. He then produced a giant pin out of a packaged shirt a la Wayne Rogers. Then on to the restored newspaper (already torn) with read gags and was followed by Bending Glass with a clever twist – you should have been there – too good to give away here. On with silk to egg on the lines of Supreme's 'Egg sposure' where the egg is finally cracked into a glass. A balloon dog production and then a very smartly dressed Philip took his bow.
One can say David Magee is big in the world of magic and appeared in his new (Big Top Size) dinner shirt. We could tell it was a dinner shirt as it had photos of burgers, pizzas, and chips all over it! Onto the magic with a clock production and then pants blendo (nearly!). A cuddly toy duck was sent to the wrist chopper followed by a spoof (very spoof!) sword swallowing and more spoof – mind reading this time – good gag though. His finale was water through girl (Kovari) all done in David's own style. His 20 years of clowning with Zippo's Circus made his timing good and I must say he really is a one off and the audience loved him.
One seems to expect Alan Russell (Snaggers) always to be doing something with balloons but tonight there was not one in sight. It was his only his magical skills that were on offer. His ring on chain routine had evidently been rehearsed well as was the horseshoe chain and ring mystery. To follow came Newton's Nightmare. This is a brass weight that is allowed to pass through a tube purely by gravity and caught at the other end. Alan though could control time and when the spectator dropped the weight into the tube he managed to catch it even by moving slowly across the stage to the tube. This is another effect he has clearly hallmarked. A good show from someone who performed with no tables etc, he just walked on and did it.
During the totalling up of the scores Quentin Reynolds kindly presented (as a non competitive act) a psychic piece of magic with a very strong story line. I will not detail it here as it was not part of the competition. Sufficient to say it received quite a few gasps and excellent applause. Thank you Q (maybe you'll be in the next Bond film!) for this which greatly helped to keep the continuity of the evening.
The winner was Philip Partridge who also took the comedy prize. Runner up was David Yorke.
Appreciation must be recorded to Peter Moran for his excellent timekeeping skills and to Paul White for his discreet darting about as Stage Manager which kept up the pace of the evening. Finally grateful thanks to 'Nick the Next' (President) for arranging the whole evening for all to enjoy.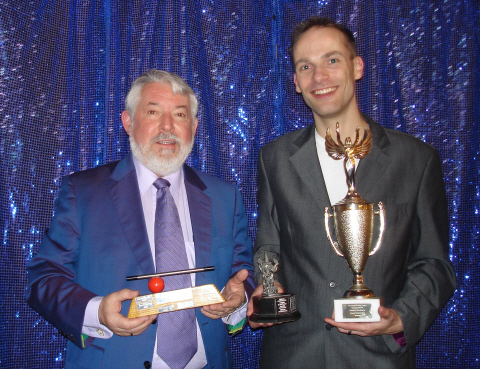 Manchester Magicians Competition Winners 2007
Competition Winner and Comedy Award Winner Philip Partridge (R)
with Runner-up David Yorke