Manchester's St. Patrick's Day Parade – 11th March 2007
reported by Geoffrey Newton PRO
We didn't have to brave the snow this year as the Sunday morning proved to be a bright and dry day. At 11.00am Mike Sharples arrived at the IWHC with 'our' truck and we merrily set about decorating it. There were jumbo size dice, wands, a card castle, rabbit in hat table and cups and balls. All trimmed off with St. Patrick's Day bunting courtesy of Guinness.
As we wended our way in the enormous procession of floats it was possible to make hundreds of balloon sculptures for well wishes lining the route. I must admit my 3 twist balloon dogs did look rather paltry alongside Snaggers wonderful creations but he improved my skills as time went on. You could call it a workshop on foot. Peter and Helen were also busy with their twisting whilst Dan, Rebecca and Vivien passed out hundreds of our puzzle cards. Added to all this was Cliff in full magician's regalia performing linking rings, dancing cane, and card productions as we walked the miles.
On reaching Albert Square your writer presented The Mayor with a large silver balloon 'M' wishing him a Magic Day. On the return up Cheetham Hill Road the streets being still fully lined our balloon modelling and leaflet teams were still busy.
It was all good fun and healthy exercise and the popularity of this event made it all worthwhile. We have had an excellent association with The Irish World Heritage Centre for over 10 years now and it has been a pleasure to support the Irish community in Manchester again on this important occasion.
Special thanks must go to our secretary Mike for making the necessary arrangements, props and banners.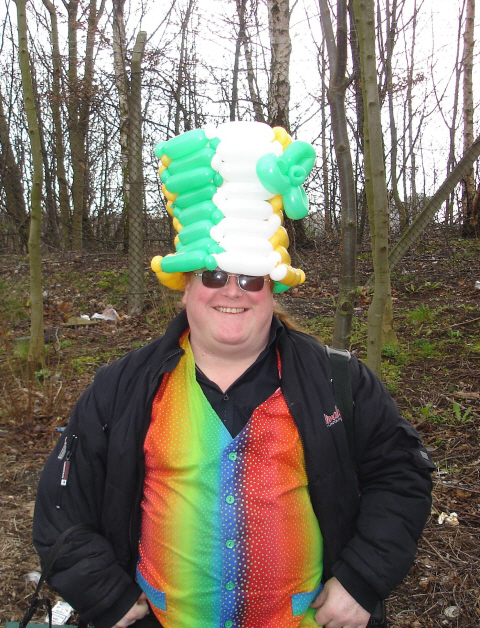 Snaggers
Snaggers in true Irish colours.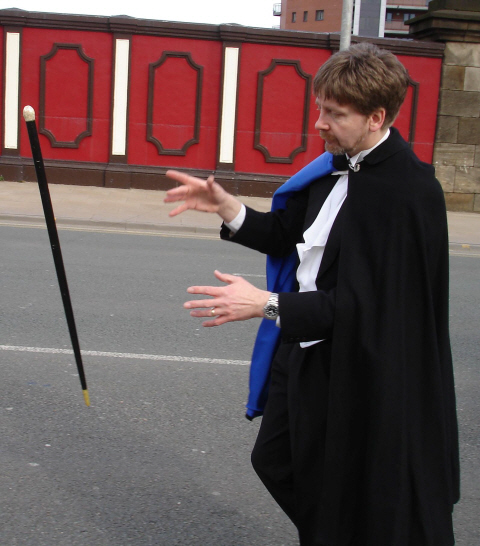 Cliff Cowling
Dancing in the Street or should it be Dancing Cane in the Street?
with Cliff Cowling.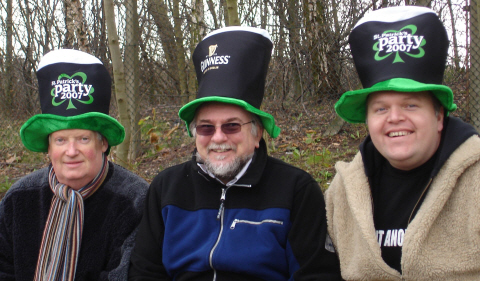 Peter, Geoff and Mike decked out and ready to go
Peter, Geoff and Mike decked out and ready to go.