Broken Wand – John "Sly" Smith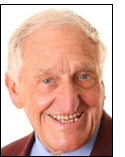 It is with deep sadness we report the passing of John 'Sly' Smith at the age of nearly 89 years. He was a member of The Order of The Magi in Manchester and The International Brotherhood of Magicians for 70 years. He was The British Ring President in 2012 and for many years organised the children's show at The British Ring Convention. John won the Tom Harris Cup for comedy in 1960.
He served with the Royal Engineers in Egypt during the Suez crisis during his National Service and then trained as a civil engineer working for employers which included Redpath and Brown, I.C.I. and Hawker Siddeley. Magic though was always a very large part of his life. He is probably the most well-known children's entertainer in the Cheshire area, turning eventually into a full time professional. John had television appearances on That's Life, Potty About Pets and Look North; then on the Radio 4 programme Woman's Hour talking about magic. He lectured to countless magic societies, and worked with Fred Kaps, Robert Harbin and Harold Taylor.
The funeral will take place in January 2021.
Rest in peace dear friend, the world of magic will remember you fondly for a long time to come.
Geoffrey Newton – PRO