Latest Magi News – 25th March 2005
AlladinManchester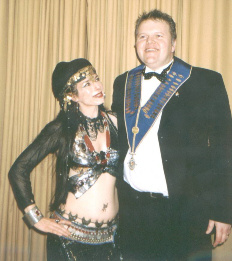 When the President of The Order of the Magi Mike Sharples created the idea of an Aladdin theme for the 2005 dinner and cabaret, little did he realise just what a big hit it was going to be. Having Zehara, an authentic belly dancer, to shimmy the Presidential party into the banqueting suite of The Irish World Heritage Centre in Manchester certainly grabbed the immediate attention of the 120 diners attending this major event in the year.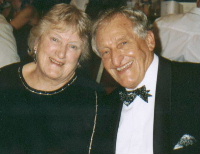 There was plenty more to come and so following grace by the Reverend Major David Gray an excellent meal was served and then short and witty speeches came from Don Beattie (President of The British Ring IBM) President Mike Sharples, Ian Ball, and Nikki Sharples (President's Lady). Flowers were then presented to Pam Beattie and Nikki and also to the 4 ladies who work so hard for the society: June Smith, Irene Pilkington, Helen Moran and Vivien Jackson.
Presentation of framed 25 year membership certificates to Ray Connor, Harry Hayes, and David Baxter (travelling all the way from Northampton) formed part of the proceedings. A special welcome was made to the Treasurer of The Centre for Magic Arts at The Magic Circle David Ball and his wife Joy who had also travelled a great distance (Watford) to be with us. Toastmaster for the evening was Clifford Cowling.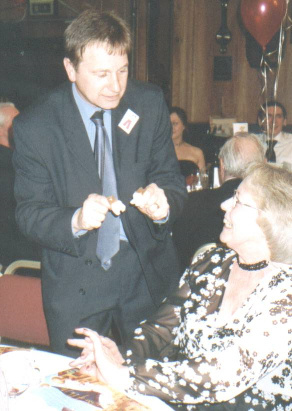 On to the cabaret with Cliff who, in his second role as compere, introduced the Northern Magic Circle award winning comedy act of Steve Gore and Co. This made a very good start to the entertainment. Next, Ward Allen and Roger the Dog continued the comedy with the quick fire lines between the ventriloquist and his lovable floppy eared partner. The finale was Pat Fallon and Tanya, slick magic with dove productions a patter section including excellent audience participation and an illusion, that I think is, called Geometrix. This couple work together with such precision it really is a treat to watch.
The Management and staff of The Irish Centre always afford us excellent facilities and service and The Magi is indeed grateful for their continued help and courtesy.
The Mike Sherman Disco brought out the late night boppers until 1.00am and then another successful Magi event was over. With the flying carpets queuing up to take the late night revellers home, we can now look forward to next years dinner.