The Order of the Magi President Mike Sharples and Immediate Past President Geoffrey Newton were invited to meet the President of Ireland Mary McAleese when she recently visited the Irish World Heritage Centre in Manchester, the Magi headquarters.
Mike presented her with a framed coloured Magi logo with an explanation of the motto. He said, "It was a great pleasure to meet the President and we chatted about magic and the fact we regularly use the facilities on offer by the centre."
Mary McAleese, the 9th President of Ireland, is now in her second term of office and will serve until 2011.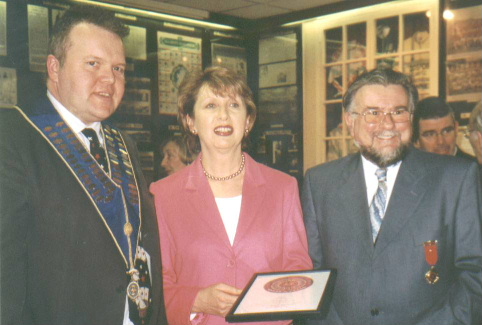 Irish President Mary McAleese meets the Magi President in Manchester
Mary McAleese with Magi President Mike Sharples (left)
and Immediate Past President Geoffrey Newton
Added 14th February 2005.